Welcome to the best summer yet…
Registration for Summer Day Camp closes May 4.
Registration for School Break Programming Open August – March
After May 4 – How do I get my child on the summer camp waiting list?
Registration for summer day camp closes May 4. If you would like to register after May 4 you can still complete registration and process full payment for a child to attend camp and we will place your child on our waiting list.
If a space opens up on or before June 4 we will place your child on our roster for summer camp. After being on the waiting list, if space on our camp roster does not allow for your child to attend camp, your money will be refunded on June 4.
Your registration fee will be refunded in the event LukeCamp is canceled during the first four weeks due to a pandemic or other unforeseen statewide or national emergency.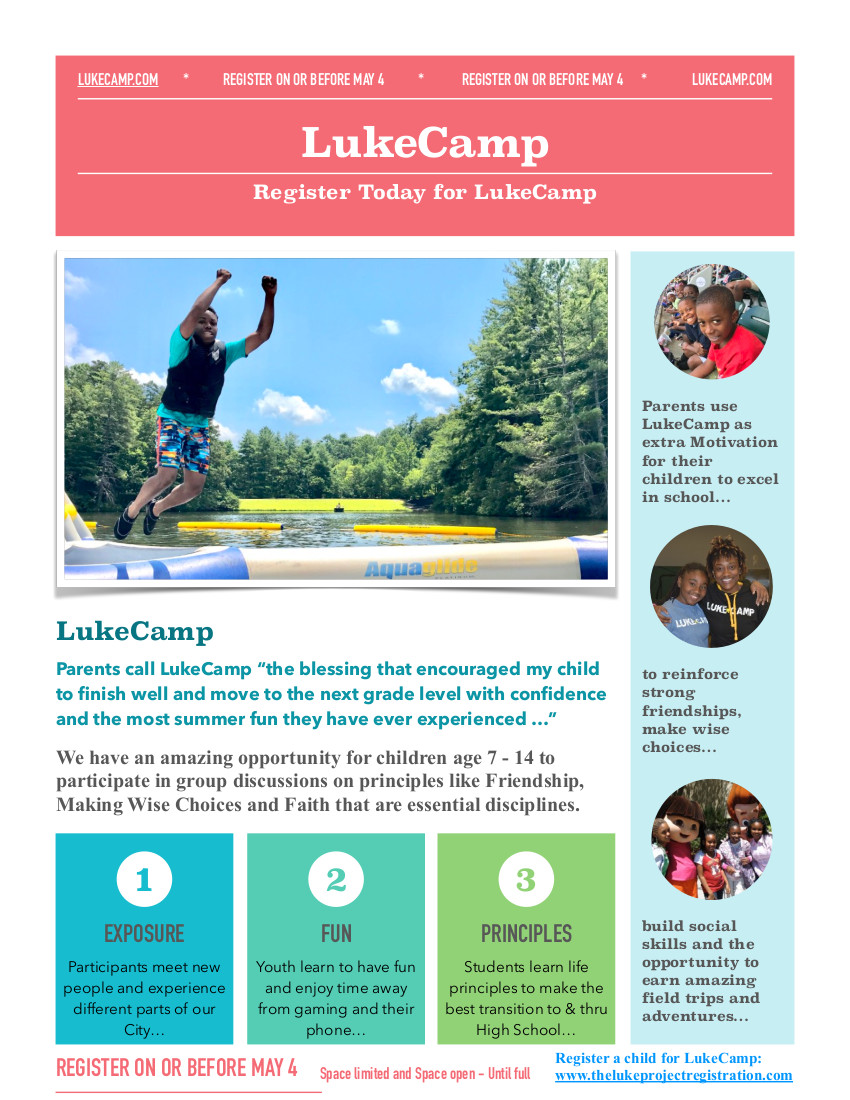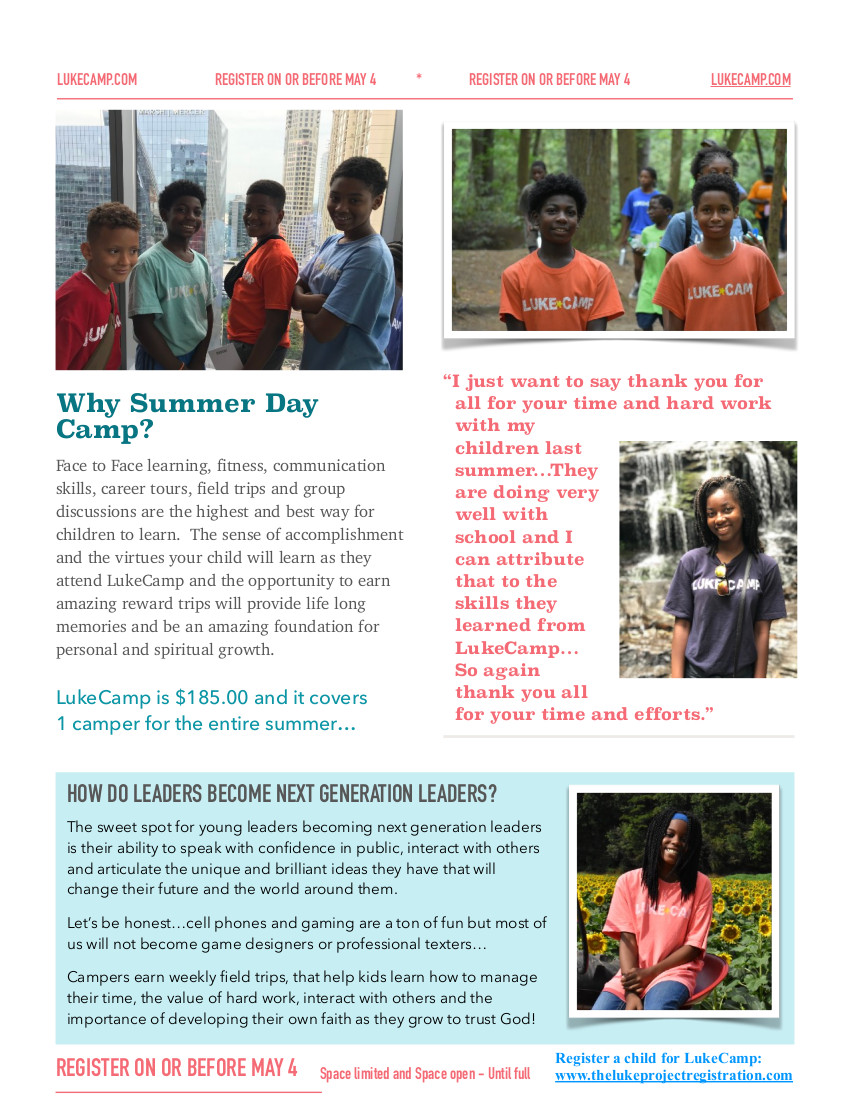 ---
Testimonies –
"LukeCamp was the best time ever! We got to go to this huge farm (God's Farm) and actually do things I have never done before. Then each week we get to go on a reward field trip where we choose what fun stuff we will be doing like bowling, skating, going to a baseball game, hiking, playing games – it is awesome!" ~ Michael – Luke Camper
"LukeCamp is a real find. It is affordable and they really care about my children. They do everything from a Christian perspective and I can really see a difference in my child's confidence and behavior. I highly recommend this affordable camp to other parents." ~ Michelle B., Parent
"It is hard to believe my child would ever consider a profession serving children. He does not like kids and working with them has never been in his top 100. I am not sure what you guys are doing at LukeCamp but he actually wants to be a child psychologist when he grows up." ~ LukeCamp Parent
"I just want to say thank you all for your time and hard work with my girls this summer. I know they can be a handful but they really did enjoy camp. Aliyah is doing very well with virtual school and I can attribute that to the skills she learned from Luke Camp this summer on video call etiquette. Cameron is doing very well with math and even taking 6 grade language arts. So again, thank you all for your time and efforts this summer."
Sincerely,
Ms. Rose, Parent
LukeCamp Summer Camp PSA
LukeCamp Registration and General Information
Drop Off
Daily Summer Camp Drop off from 8:00 a.m. – 8:15 a.m.
LukeCamp – Chick-fil-A / Cascade Road SW Atlanta
3725 Cascade Road SW
Atlanta, GA 30331
Pick Up
Daily Summer Camp Pick-up from 4:45 p.m. – 5:15 p.m.
Kroger
3425 Cascade Road SW
Atlanta, GA 30311
Summer Day Camp
LukeCamp starts the First Tuesday after Memorial Day.
Monday – Thursday 8:00 a.m. – 5:00 p.m.
Privacy Policy | Privacy Tools | Cookie Policy | Terms & Conditions
Save
Save