The Luke Project – COVID-19 – April Golf Event – LukeCamp Update 2020
In support of community distancing and to follow the directives of public health officials we are canceling the 20th Annual LukeCamp Golf Fundraiser. However, we are still seeking to raise $35,000 to support underserved children age 7-14 who attend LukeCamp.
Click button to give…

Since the last golf tournament, our staff has had the privilege to be eyewitnesses to so many success stories. One of our former summer campers received teacher of the year honors in Atlanta. Another former camper has entered dental
school, another nursing school, another med school and another is a lead teacher at an elementary school in Atlanta.
So, your support and generosity enables us to pour foundations that really make a difference in the lives of individuals and in our communities.
How can you help?
#1 – Let us know how we can pray for you and your family.
#2 – Pray for the children we serve and our staff.
#3 – And… If you are able to make a gift in support of the children we serve please visit:
https://thelukeprojectregistration.com/donate/
---
The Annual Golf Charity Benefit raises funds to sponsor underserved kids who attend LukeCamp and LukeSports.
The Luke Project focuses its efforts in two major environments – each a key piece to building meaningful relationships with underserved children, Age 7 – 14, living in Atlanta. The Luke Project accepts financial support for these programs throughout the year.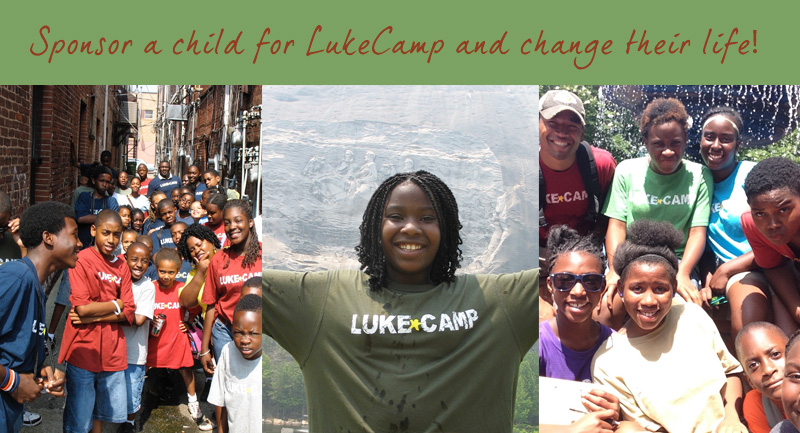 LukeCamp provides a 9 week summer day camp and a 1 week overnight
camp for children age 7 – 14 in underserved communities of Atlanta.
Your gift of $500 supports one child for Weeks 1-9 or Week 10.

LukeSports provides flag football, basketball, soccer and
cheerleading for 2,200+ athletes.
Your gift of $250 helps provide two seasons of athletics
for a student athlete.
Every gift counts!  To see more ways that you can give to support The Luke Project, Inc. and the children we serve, please visit the Donation Page.
Your strategic partnership will help us raise $95,000 to impact underserved children living in Atlanta. Your investment in the future of our city is changing lives and we look forward to seeing you on

Wednesday, April 15, 2020

.
---
Tentative Schedule of Events
St. Ives Country Club Dr.
Johns Creek, GA 30097
Time
Event Description

7:30 am

Check-in / Registration
Breakfast – Grab and Go
Purchase Mulligan and Prize Packs
Team Practice Area available
8:30 am
Introduction / Proceed To Carts
9:00 am
Shotgun Start
Longest Drive Contest
Closest to the Pin Contest
Beat the Pro Contest
11:30 am
Box Lunch on Course
Group Photo on Course at the Turn
Putting Contest on Course at the Turn
2:30pm
Appetizers/Snacks
Raffle Drawings
Team Winner Announced
Individual Winners Announced
Note: Schedule of Events is subject to change.
---

In lieu of participation, I want to make a strategic gift in support of the golf fundraiser.
Silent Save
Save
Save
Save
Save
Save
Save
Save
Save
Save
Save
Save
Save
Save
Save
Save
Save
Save
Save
Save
Save
Save
Save
Save
Save
Save
Save
Save
Save
Save
Save
Save
Save
Save
Save
Save
Save
Save
Save
Save
Save
Save
Save
Save
Save
Save
Save
Save
Save
Save
Save
Save
Save
Save
Save
Save