REGISTRATION FOR LUKECAMP 2019 IS CLOSED
LukeCamp is a fun, affordable, summer day camp for children ages 7-14.
LukeCamp starts the First Tuesday after Memorial Day – End of July and a One-time, non-refundable registration fee $135.00 per family (up to 4 children) is due by May 20th.  Also, each child must have a Six Flags Season Pass and or ticket to attend any of the potential 2-3 Thursday outings to Six Flags.
Each child being registered as a family must reside year-round within the same home of the parent or guardian completing the registration.
LukeCamp is a summer day camp for children ages 7-14, and provides an affordable, fun day camp experience for children. Space is limited.
Included are daily field trips and 4 LukeCamp t-shirts.
The Luke Project, Inc. through LukeCamp provides a Christian perspective through tutoring, Bible study, job exploration, community service, fun, and weekly reward field trips. LukeCamp concludes with a weeklong session of overnight camp, which has traditionally been held at Big Canoe in the North Georgia mountains. The goal of LukeCamp is that every camper discovers God's plan for their life, develop increased self-esteem, and build confidence and character.
LukeCamp registration is open to any child, regardless of ethnicity or religious background.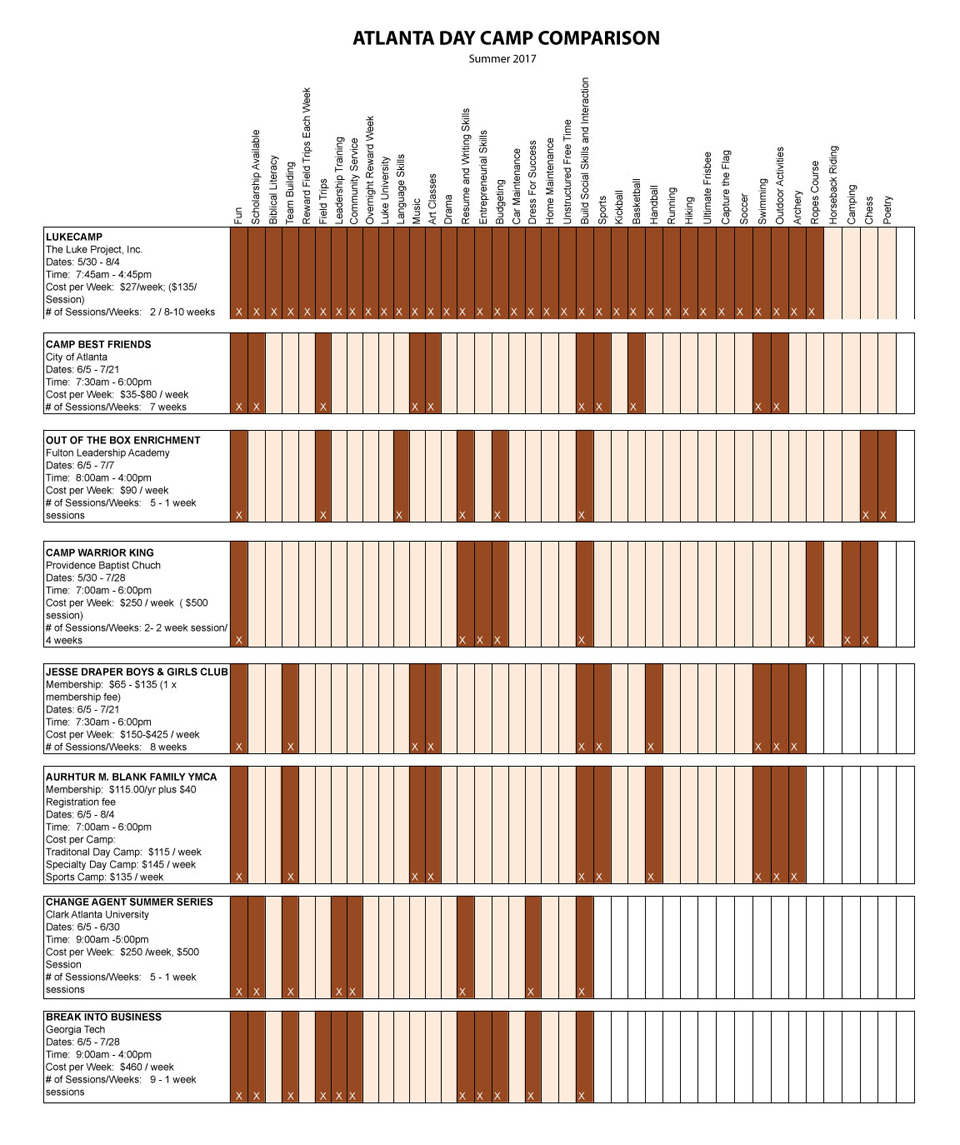 Registration Fee per Family with Camper(s) Age 7 – 14 for entire 8-10 week summer camp (Space Is Limited):
LukeCamp is divided into two Sessions over 8-10 weeks during the summer.  A child must attend and exhibit good behavior during Session One to be eligible to attend Session Two.  If a child does not participate and/or follow guidelines during Session One and is removed from LukeCamp, they forfeit any payment and right to attend Session Two.
The LukeCamp information meeting will be the second Thursday in May.  Please email info@thelukeproject.org for time, location and for a copy of the meeting agenda.
Camper must exhibit good behavior, as determined by LukeCamp Staff, to remain eligible for LukeCamp.  Once the one-time, non-refundable registration fee is paid, your child will be placed on the LukeCamp roster for the summer as space permits, and or your registration fee will be refunded if space is no longer available.
REGISTRATION FOR LUKECAMP IS CLOSED

Our Counselors
Our LukeCamp counselors go through a stringent application process and background check.  The safety and well-being of your child is our number one priority.
---
Testimonies –
"LukeCamp was the best time ever!  We got to go to this huge farm (God's Farm) and actually do things I have never done before.  Then each week we get to go on a reward field trip where we choose what fun stuff we will be doing like bowling, skating, going to a baseball game, hiking, playing games – it is awesome!"         ~ Michael – Luke Camper
"LukeCamp is a real find.  It is affordable and they really care about my children.  They do everything from a Christian perspective and I can really see a difference in my child's confidence and behavior.  I highly recommend this affordable camp to other parents."  ~ Michelle B., Parent
"It is hard to believe my child would ever consider a profession serving children. He does not like kids and working with them has never been in his top 100. I am not sure what you guys are doing at LukeCamp but he actually wants to be a child psychologist when he grows up." ~ LukeCamp Parent
---
REGISTRATION FOR LUKECAMP IS CLOSED
Save
Save
Save
Save
Save
Save
Save
Save
Save
Save
Save
Save
Save